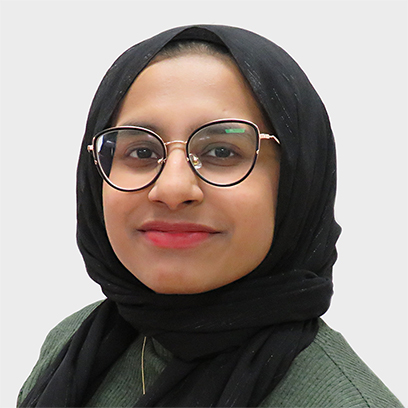 Naeema Nazar is a counsellor/psychotherapist who works with individual adults with a wide range of issues and problems including: depression/low mood; anxiety; stress; abuse; eating and body image issues; dreaming; loneliness; mindfulness; minority stress; panic and panic attacks; post-natal depression; post-traumatic stress disorder (PTSD); racial trauma; relationship issues; relaxation; self-harm; self-identity; and many more issues.
Naeema has particular experience working with depression, anxiety, self esteem issues, procrastination, motivation, stress, loneliness, and mild trauma.
Naeema's way of working
Naeema is an empathic, collaborative and non-judgemental therapist who aims to build a good therapeutic relationship with each client and to provide a safe space for them to be able to explore their issues and problems. She works from a person-centred perspective in her
counselling
/
psychotherapy
work and tailors her approach to meet the needs and preferences of each individual.
Naeema is fluent in Malayalam
and is happy to work with people who would feel more comfortable speaking in this language.
Naeema's background and training
Naeema has worked in a various counselling and support roles in both the UK and the UAE. These include: working as a counsellor and research associate in the voluntary sector working with adults; as a psychology intern within a mental health clinic; and as a learning assistant for students on the autism spectrum.
She has an MSc in Counselling and Psychotherapy from the University of Strathclyde and a BSc (hons) in Psychology with Counselling Skills from Middlesex University Dubai. She has also completed training in the Registered Behaviour Technician (RBT) course.
Naeema is an individual member of the British Association of Counselling and Psychotherapy (BACP).
Naeema's fee
Naeema charges £70 a session for self-funding clients.
She also works with clients referred via their employer/organisation – for further details, please visit
First Psychology Assistance.